www.padfm.com.gh / Savannah region, Ghana
Ghana's minister for Lands and Natural Resources, Hon. Samuel Abu Jinapor has presented 200 mono desks furniture to Laribanga D/A Primary School in the West Gonja Municipality of the Savannah region.
Out of the 200 desks, 150 will be used by the primary school and 50 desks for the Kindergarten (KG).
The Damongo MP is supporting the school with the desks to help boost teaching and learning at the basic level.
The New Patriotic Party (NPP) Chairman for the Damongo Constituency, Alhaji Adams Braimah explained that the provision of the desks is in fulfillment of a request made by the school authorities to the MP.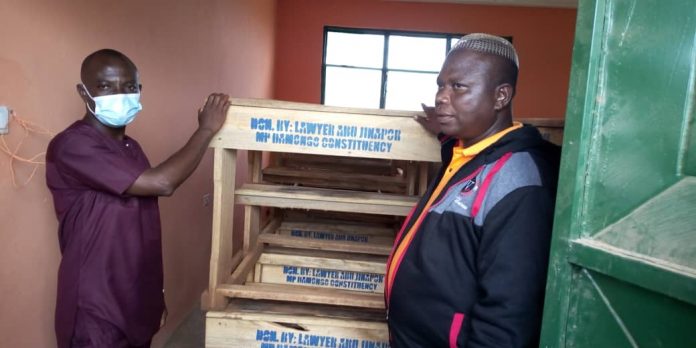 Alhaji Adams added that, education is very key to the development of the Damongo constituency. As such, Lawyer Abu Jinapor will do everything possible to support the improvement of education in the area.
He appealed to the GES and school authorities to take good care of the desks so that the children who are the future leaders, will benefit from the intended purpose.
Alhaji Adams presented the desks to the school on behalf of the Damongo MP.
The West Gonja Municipal Director of Education Mr. Akey Ferguson, who received the furniture on behalf of the municipal education directorate, expressed gratitude to the MP for the timely intervention, since most of the class rooms especially in the newly constructed 6-unit classroom block have no furniture for the children to use.
Akey Ferguson explained that the current challenge of pupils/students learning on bare floor will soon be a thing of the past with support from MP and government and used the opportunity to thank Abu Jinapor for his support to improving education in the West Gonja Municipality.
"Apart from this furniture, the MP is footing full cost of tuition and payment of fees for the common mock examination for candidates who will be writing the 2021 BECE examination and also paying the full cost for the maintenance of a broken down Hilux pickup of the Ghana Education Service, which has been off road for a long time", he said.
Akey Ferguson appealed to Abu Jinapor for more support to help improve quality education in the West Gonja Municipality.
Mr Osman Briandeen, the Headteacher of the school thanked the MP for the support and said furniture unavailability was a major challenge to the school.
Mr. Osman assured the municipal director of education that the furniture will be put under proper care so that future generations will benefit.
Briandeen appealed to the GES and the MP for the renovation of the old school block and the extension of electricity to the school to boost teaching and learning.
The NPP Communication Director for the Damongo constituency, Iddrisu Lamin also appealed to school authorities to put the furniture into good use and said Abu Jinapor has benefited a lot from education and would therefore, do whatever is humanly possible to promote teaching and learning in the Damongo constituency.
www.padfm.com.gh / Abdulai Zulkaninu